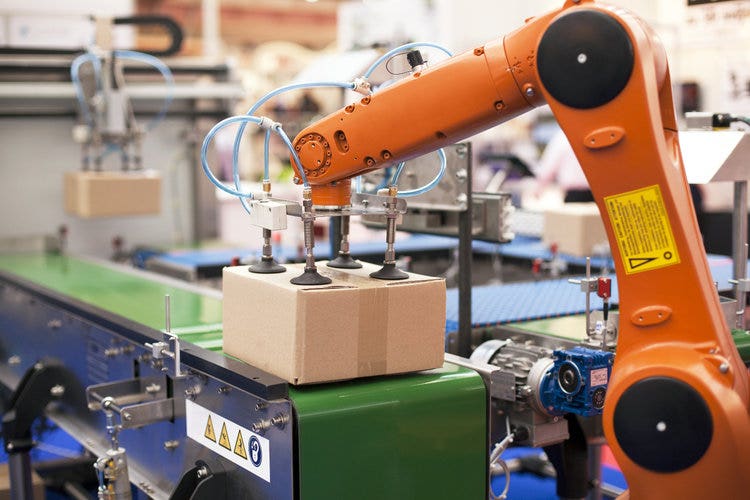 The impact of digitalization can be found in on almost every business now. In fact, organizations, as well as individuals, are seen going to great lengths just to learn about how this technology impacts their bottom line.
Can you name me one thing that you must be mindful of while commencing any business? It's the cost! Cost is the key factor which has the potential to maximize sales potential. Also, creating a unique product available to the consumer in a cost-effective way will automatically give you a leg up over most of your competition. Have you ever come across the term product line automation? It simply allows companies to leverage aspects such as ingenuity and efficiency without compromising in terms of craftsmanship and quality.
Every business worries about employees getting sick, with such technology you can rest assured that production levels will not only just remain high but the end product will be made to a consistently high standard. Robotic packaging is such technology that entirely mimics human movements to take the human being out of the process without sacrificing in terms of quality. Well, that doesn't mean you need to start eliminating all your good staff. On the contrary, it provides a golden opportunity to get rid of those boring, repetitive, unskilled tasks required to meet production needs.
Robots over Human, Why?
So, the question really boils down to this: Why should you waste your time learning about Robot packaging automation? I'll give you three solid reasons.
Flexibility- Flexibility is one of the biggest applications of robotics in packaging. By doing this, a line operator/ machinist can change the outline for a case or pallet on the instant basis with the click of a button. After all, such tasks take far longer when done manually.
Accuracy- Pick-and-place robots are outfitted with slim arms and wide reach. Build with sturdy repeatability and precise tooling making them extremely accurate. As a result, this makes them a great fit for many applications in such industries.
Consistency- Being capable of improving the product quality with cycle time, Robot packaging machines make such operations seamless.
Robotics are tireless and require minimal maintenance. It may quite interest you to know that a robot arm can work at a high speed for 70,000 hours or more before requiring maintenance or experiencing a mechanical failure. As a result, the increase in productivity simply leads to reduced labor and safety costs. A single robot can perform the tasks of multiple humans in far less time and with greater accuracy. Robots are reliable, consistent, fast, and efficient.
Have you wondered where robotics could fit into packaging automation?
Picking & Placing
Depanning
Denesting
Boxing
Palletizing
Warehousing
Certain Pitfalls to consider
These services have indeed come as a boon but they even have a fair share of controversies as well.
Robot technology is quite impressive as it successfully performs several functions especially the ones which were previously performed by humans. But do you know that overestimating robot capabilities can lead to increased maintenance costs and lost productivity?
A repeatable machine may or may not be accurate. But when it comes to the packaging industry, accuracy is the key for specific movements, but repeatability is necessary to enact those movements again and again, over time.
Robotic technology can be designed perfectly for a business, but implementation from humans is key. Without end users who understand and appreciate the technology, the production capabilities are limited.
Last but certainly not the least, robotics may not be right for every situation, reluctance to consider using them greatly limits the potential of a business that relies on the packaging.
That's a Wrap!
Hunter Industrial Supplies is one of the leading providers of Industrial Packaging materials in Australia and we are also planning for robotic packaging in the future. We guarantee to provide quality at the best price lies in our commitment to customer service and satisfaction! For further details get in touch with us today!